Duco is a highly agile reconciliation and data integrity system. It enables regulatory experts and operations professionals to set up checks and controls extremely quickly, between internal systems, regulators, competent authorities, trade repositories, APAs, ARMs, other third parties, external databases, etc. With Duco you can monitor data integrity across systems throughout the reporting lifecycle.
Example configuration: MiFID Reconciliation
Match Fields
Below is a representative list of fields that are useful to match on:
Buyer LEI
Seller LEI
Buyer name
Investment firm covered by directive
Seller company name
Report status
Data enrichment
Duco is source and syntax agnostic. Users can upload data for any regime without prior transformation but you may sometimes need to enrich data using a reference table. Below is an example: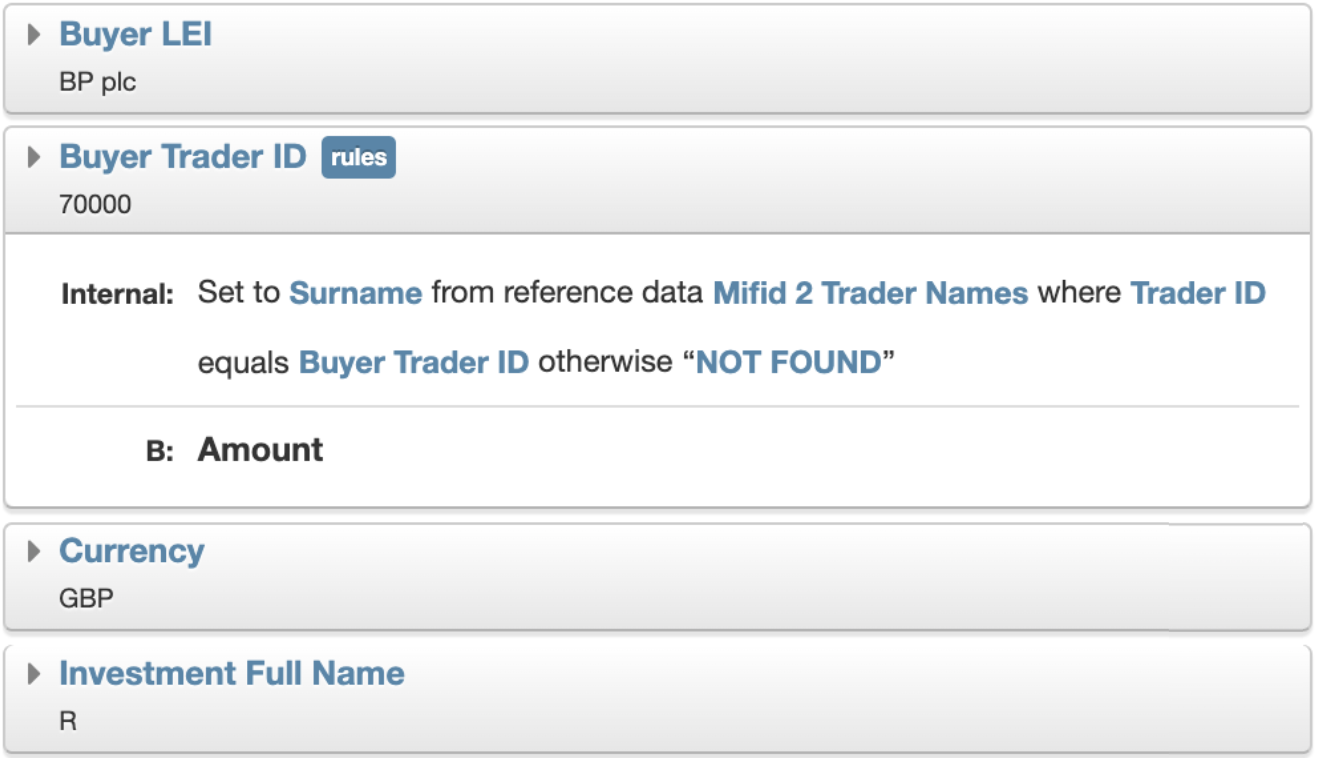 The article Configuring rules using Natural Rule Language (NRL) provides a full list of transformation rules that can be used for a regulatory reconciliation.
Exceptions Management
When inconsistencies are discovered, Duco automatically allocates these exceptions to specific
users or groups for investigation with the use of workflow rules, as shown below: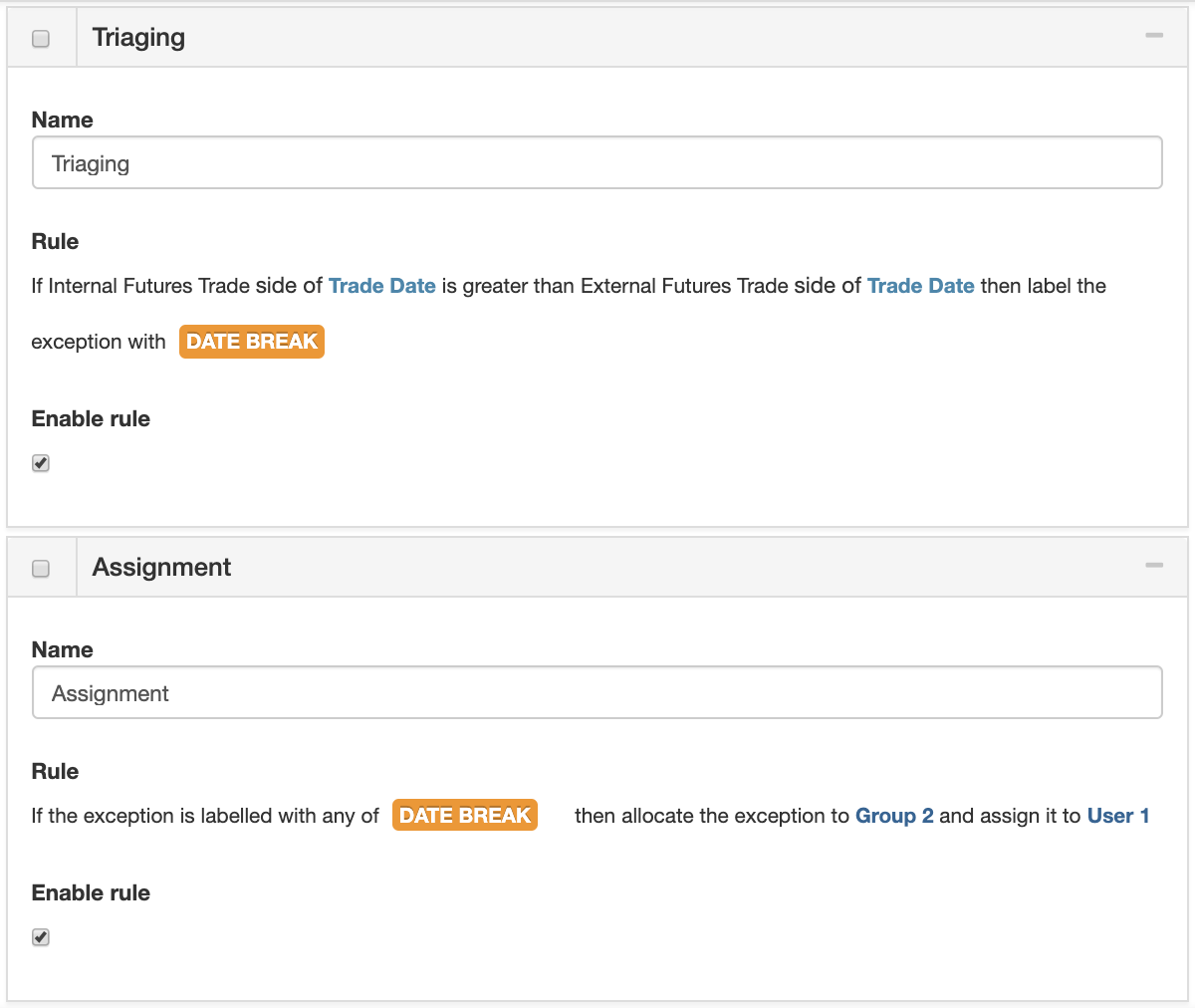 Exceptions at a glance
When users log in, they can see how many exceptions were identified over the last runs.

COVERAGE ACROSS ALL REGIMES
As a highly flexible system, Duco can provide integrity checks across any regulation. Here are
a few where we have particular expertise:

+ MiFID II
Reconciliation is mandatory under MiFID II, but traditional systems struggle with the breadth of supporting reference information required: LEIs, HR records, MICs, ISINs, ESMA eligibility checking, etc. Duco's flexible technology provides the quickest route to full compliance.

+ EMIR
Duco provides quick-to-set-up controls across all asset classes for reconciling internal trade records against ARMs and trade repositories. Firms handling reporting on behalf of their clients
can also use Duco to offer a completeness check without the need to pre-transform any data.

+ SFTR
There are 155 separate data fields required for SFTR reporting, making the mandatory reconciliation requirements arguably one of the most taxing parts of the regulation. Duco's flexible
system and data-agnostic capabilities mean that firms can be set up and compliant from day one.

+ Dodd-Frank
Clients have been using Duco for their Dodd-Frank reconciliations for several years, benefiting from our self-service functionality to quickly set up checks between internal systems and trade repositories.

+ CFTC Swaps 2.0
The long-awaited rewrite for parts 45, 49 and other requirements for swaps reporting in the US is now being rolled out, alongside reporting changes from the DTCC. With Duco, firms can quickly put controls in place, while also having a testing mechanism for upgrading reporting systems and
reporting logic.

+ FINRA
Reporting for Consolidated Audit Trail (CAT) is estimated to result in over 100 billion daily transactions being submitted to the FINRA repository. This volume has created a tremendous need for improved exception management, reconciliation and data integrity for lineage and linkage.

+ ASIC and APRA
Duco enables Australian firms reporting under ASIC, and Superannuation funds reporting under APRA, to set up automated data integrity checks and reconciliations in a fraction of the time required by traditional systems.

+ MAS
Firms reporting derivatives transactions under MAS in Singapore can use Duco to reconcile their internal system data with trade repositories, or set up intersystem reconciliations to ensure data quality is maintained throughout the reporting process.

+ HKMA
Firms report both directly to the HKTR and via agents like DTCC resulting in split data flows and different data formats. Duco is data agnostic, enabling firms to set up data integrity checks across both reporting mechanisms quickly and easily.