Ensuring Risk Data Integrity
Risk teams are busier than ever in the face of a fast-changing business landscape. As processes, systems and activities shift, the complexity associated with compiling, normalising and reconciling risk data continues to increase.
Firms need to confidently monitor risk exposure and financial health at all times, across all areas of risk. But to do this teams must deal with large volumes of highly complex data, drawn from disparate sources, in varying file formats.
THE NEED
Getting a consolidated view of risk across all areas is extremely difficult using current systems and technology. Drawing data from multiple systems often involves heavy data transformation, backed up by manual processes and spreadsheets. As the quantity and complexity of risk data increases, these processes are unsustainable.
Firms need to be able to:
Ingest, normalise and reconcile risk data fast

Deal with changing requirements and regulations

Ensure all errors and exceptions are dealt with quickly and efficiently




THE DUCO WAY
Duco is a highly flexible system built for agility. Unlike traditional data integrity systems it does not have a predefined schema that the data needs to conform to. You simply upload your risk data and Duco will adapt to it.
Once in the system, you can normalise or transform the data using our unique Natural Rule Language (NRL) with no need for code. Integrity controls that used to take weeks to set up, can now be ready in hours.
Any issues that then arise are allocated automatically to individuals and groups for investigation using Duco's intelligent workflow technology.
Pure SaaS

- Duco is live within 24 hours of contract signature

Self service

- Risk teams can set up processes and controls themselves, without long projects or handovers

Machine-learning enabled

- Duco adapts to your data, suggesting field matches as it's uploaded

Continuously improving

- Product upgrades every two months, including the latest machine learning technology

Trusted

- Used by 15 of the top 50 banks, plus investment managers totalling $7 trillion in AUM
HOW IT WORKS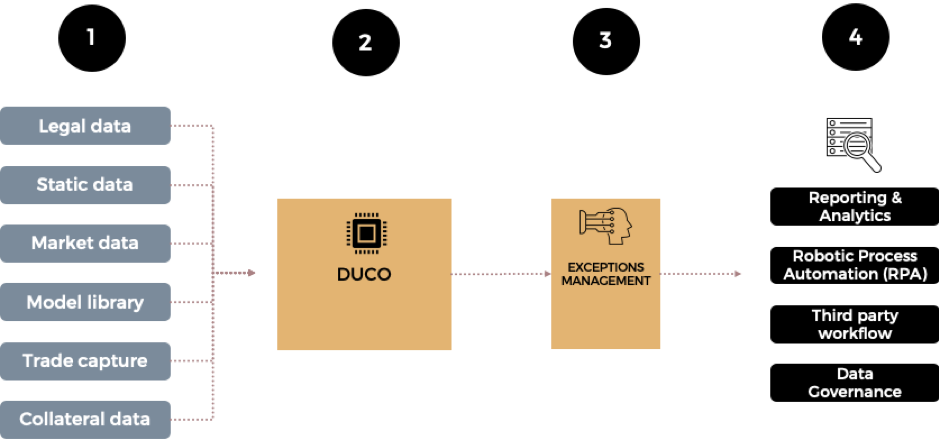 Flexible data ingestion

: Upload data from any source systems. Duco analyses and adapts to the data without pre-transformation.

Self-service normalisation

: Use Duco's unique Natural Rules Language (NRL) to clean and normalise your data. All rules are written in English sentences - no code.

Frictionless workflow

: Route any exceptions or data quality issues automatically to groups or individuals for investigation. Nothing slips through the cracks.

Plug-and-play connectivity

: With Duco's Data Platform you can easily extract your data for analysis, or use in other systems such as business intelligence, robotic process automation, workflow or data governance tools.