Our first release in 2020 is all about increasing operational efficiency by saving time spent on your key procedures:
Giving you a head start in configuring new process by suggesting match fields with Duco Alpha - our machine learning capabilities.
Reaching the data you need to look at regularly by bookmarking your filtered views.
Enhancements across the cash reconciliation module to help you completing daily activities faster.
Match field prediction
Duco Alpha is now embedded in the app to assist your daily work. When you create a new two-sided reconciliation process, you will now be directed to a new Setup Wizard to complete your initial setup. You can let Duco Alpha predict your match fields if both sides are generic files (e.g. CSV, Excel), saving you time to align columns from the two sides and giving you a head start in your configuration.
Note: contact your Duco Customer Success representative to learn more.
Bookmarking and sharing your filters
As part of completing your daily reconciliation tasks and controls you often want to view the matching results with different filters and sorting orders applied. For example by counterparties or product types sorted by amount. You can now discover those subset of data quickly by bookmarking the filters and sorting logic. You no longer need to re-apply the same filters repeatedly. You can also share those directly with your team by sending them the URL.
Notes:
In generic processes, the URL contains the run number. If you would like to always refer to the latest run, replace the run number with "latest".
Internet Explorer has a technical limit for URL length, meaning that this feature will stop working on IE in rare scenarios when you have a very complex set of filters (i.e over 30 different columns with filter values or over 30 different values in a filter). Duco recommends Chrome where there is no such limitation.
Cash enhancements
This release includes several enhancements in our cash module to improve overall operational efficiency, user experience and system performance.
Account group driven workflow
When you submit new statements across multiple accounts to your cash reconciliation process, they will now be processed individually by account groups. You can monitor the status in Account Overview screen, helping you to prioritise which account group to work on. You can now conduct workflow and matching activities on Account Groups that are not loading/matching while other Account Groups are still loading/matching giving you a longer window to complete your reconciliation tasks.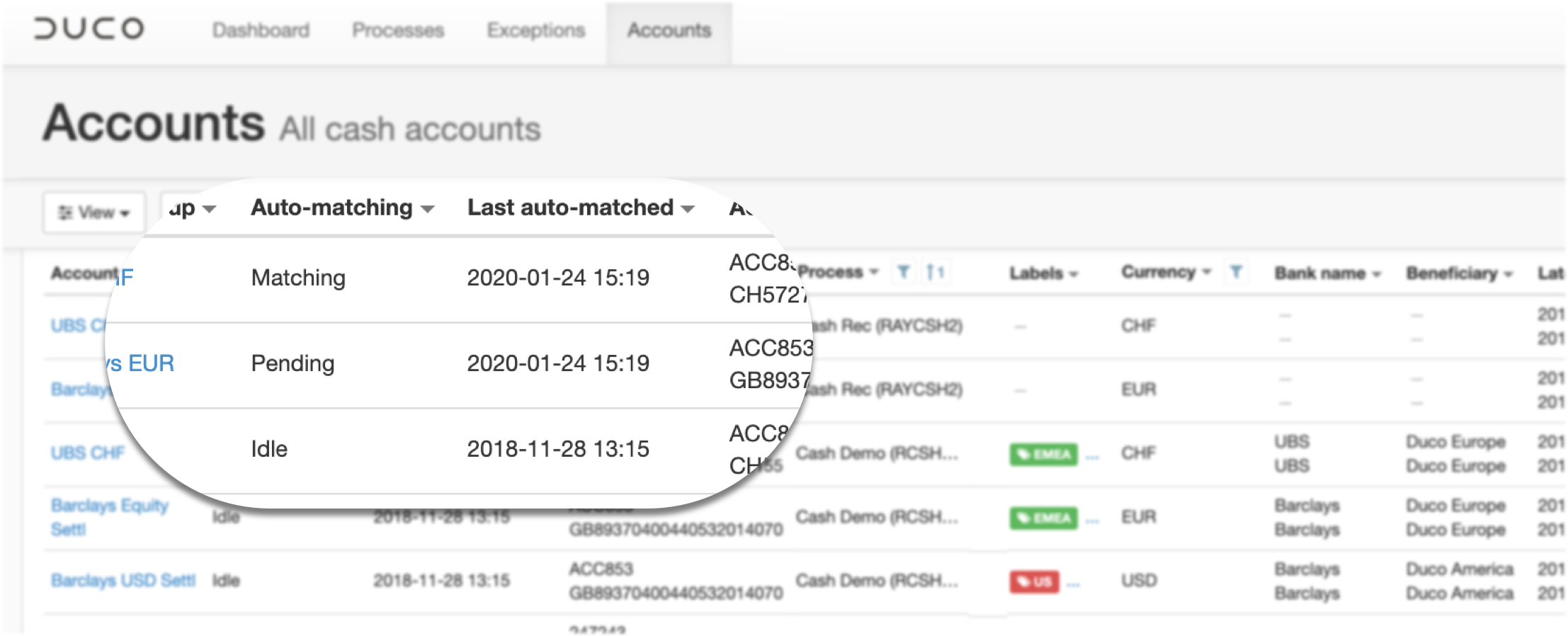 You can now go directly from Account Overview to the transactions that you need to work on. Shortcut links are now available for each account group, bringing you to the recent (click on the Account Group name) or unmatched (click on the Exception count) data for that account group only, saving repeated clicks and manual filtering.
When you finish working through those transactions, simply click Back on your browser to continue with the next group.
Faster search
We have made searching for transactions much faster. You can now use the new Search for value control to quickly search data by multiple values, such as account groups and labels.
And the now enhanced Search for text enables you to search for items that contain one of many texts that you enter.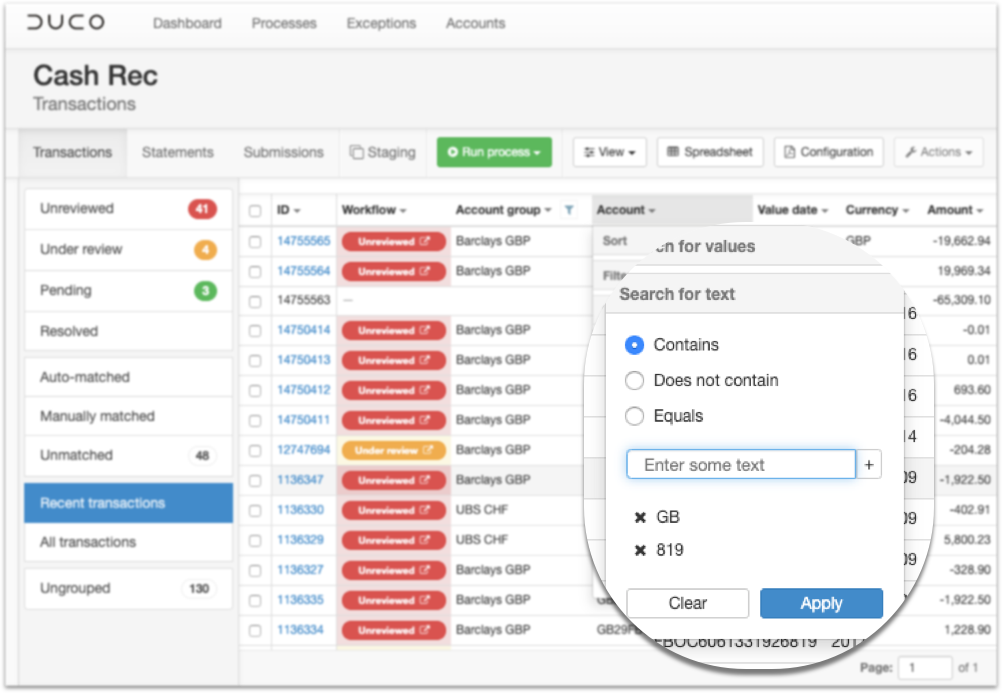 Scope for Excel and XML extraction
In the last release we added a new menu to only see recent and relevant data on the UI, reducing noise in your daily work. This release we have extended that to data export through Excel and XML. You can now specify (through contacting your CS Representative) the age window for recently matched data, limiting the amount of data being exported and making your downstream system integration more streamlined.
This parameter can be configured for each cash reconciliation process. Contact your Customer Success representative for more information.
New look in Settings
We are modernising the user interface framework, to improve screen performance and overall user experience. In this release, you will see new look and feel in some of the screens in process settings. You will see more in the upcoming releases.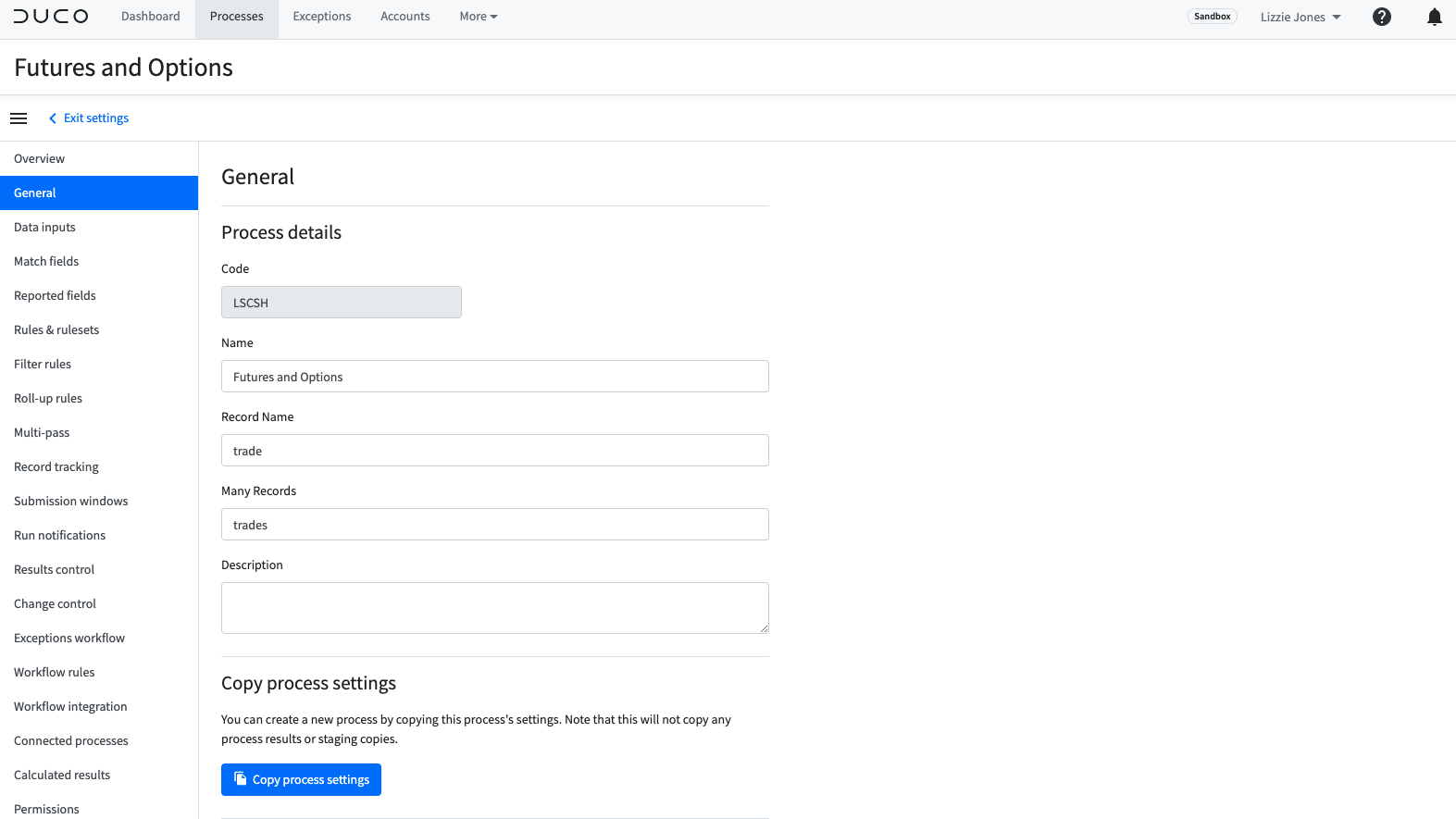 Automatically add process to reference data table authorised list during promotion
Duco has a control in place for using reference data tables in your process configurations such as match fields transformation rules, which the process must be explicitly granted access to use the table. After promoting process configurations between environments, this control may result in additional manual configuration steps. We have now made it easier. If you are a Config Admin of the selected table, when approving a process import request, we will automatically add the process to the table if it is not already there, minimising manual configuration steps in highly controlled environments.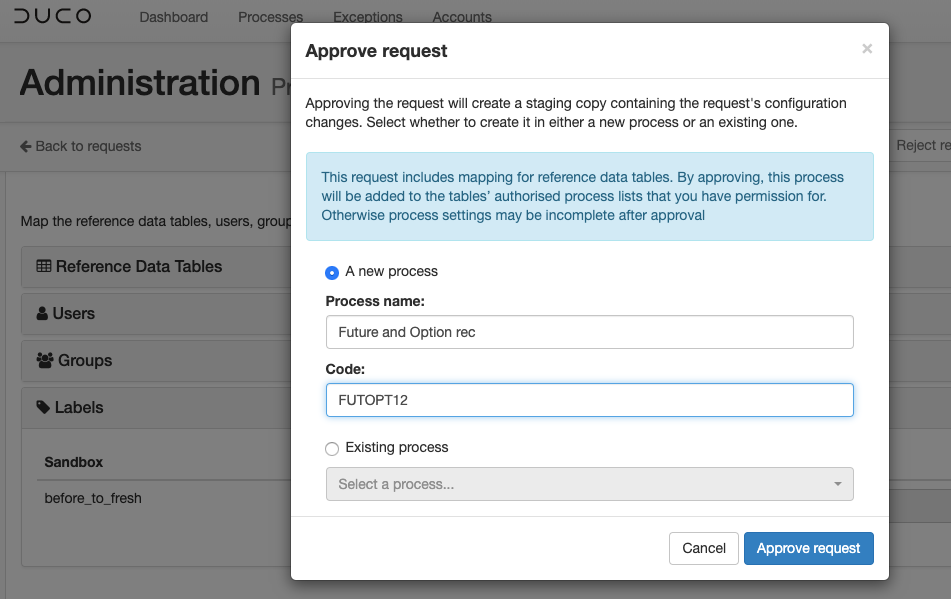 Data platform - breaking apart matches and manual matching
Manual matching exceptions and breaking matches apart are now reflected in Data Platform, showing the latest matching status for each record, and linking to exceptions with latest workflow status e.g. Under reviewed. As an example, you can now build queries to get the latest total number of unmatched records, including the ones broken apart by user, with detailed field values and exception information such as current assigned group and user.
As a result of this, there can be exceptions that are no longer linked to any result e.g. after a manual match action. Contact your Duco Customer Success representative for the best way to build the reports you need.