The Transactions tab displays the match status of individual transactions and the review status of any exceptions.
Unmatched transactions will appear in the Unreviewed bucket. These can be taken through a full review lifecycle. Click here for more details regarding Duco's exception management functionality.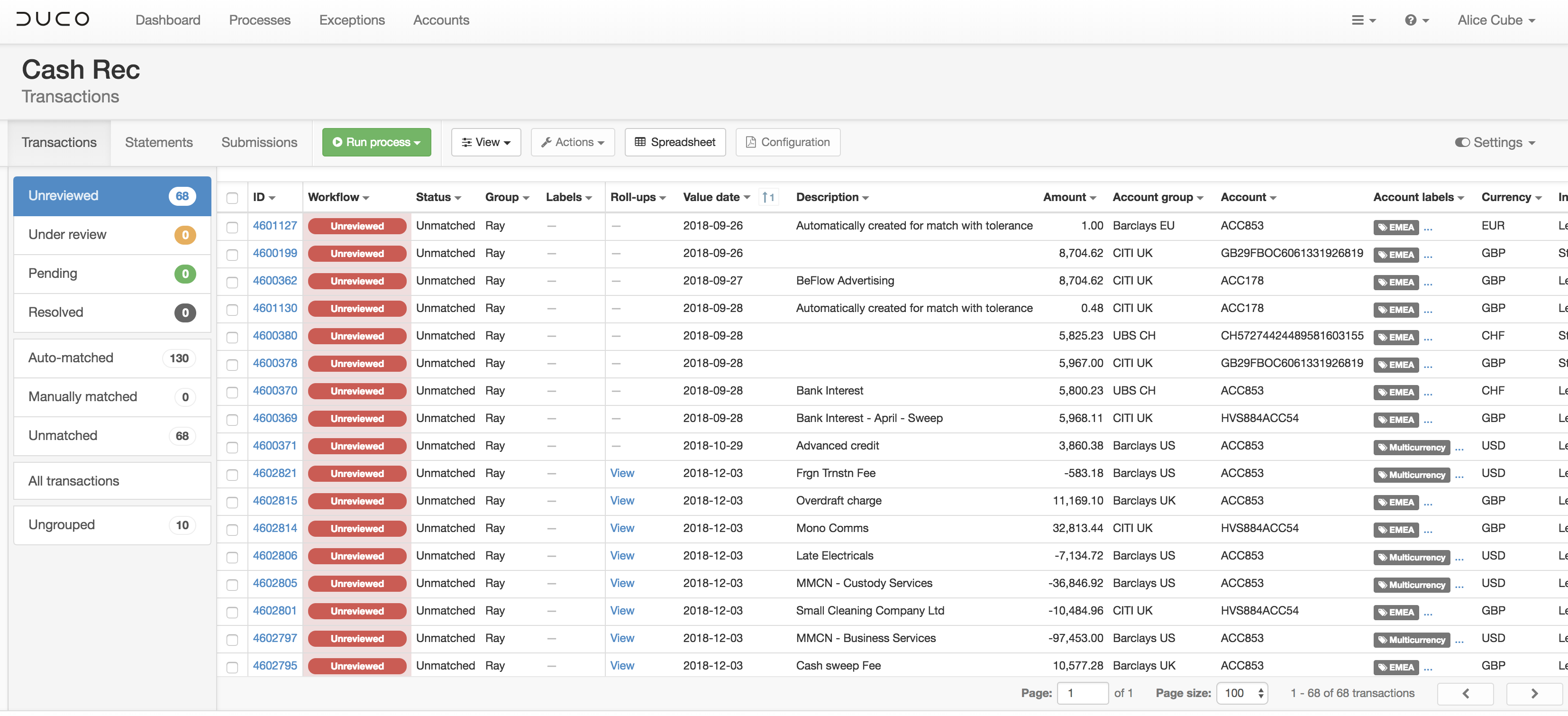 Faster search
The tabs provide features to filter and sort the data in the same way in generic processes, see here for detail.
In addition, these are available in cash conciliation results view:
Search for values - it displays all options appropriate to this process for quick search;
Search by text - you can enter one or multiple text values to make your search easier, simply pressing Return to quickly add values to the search list.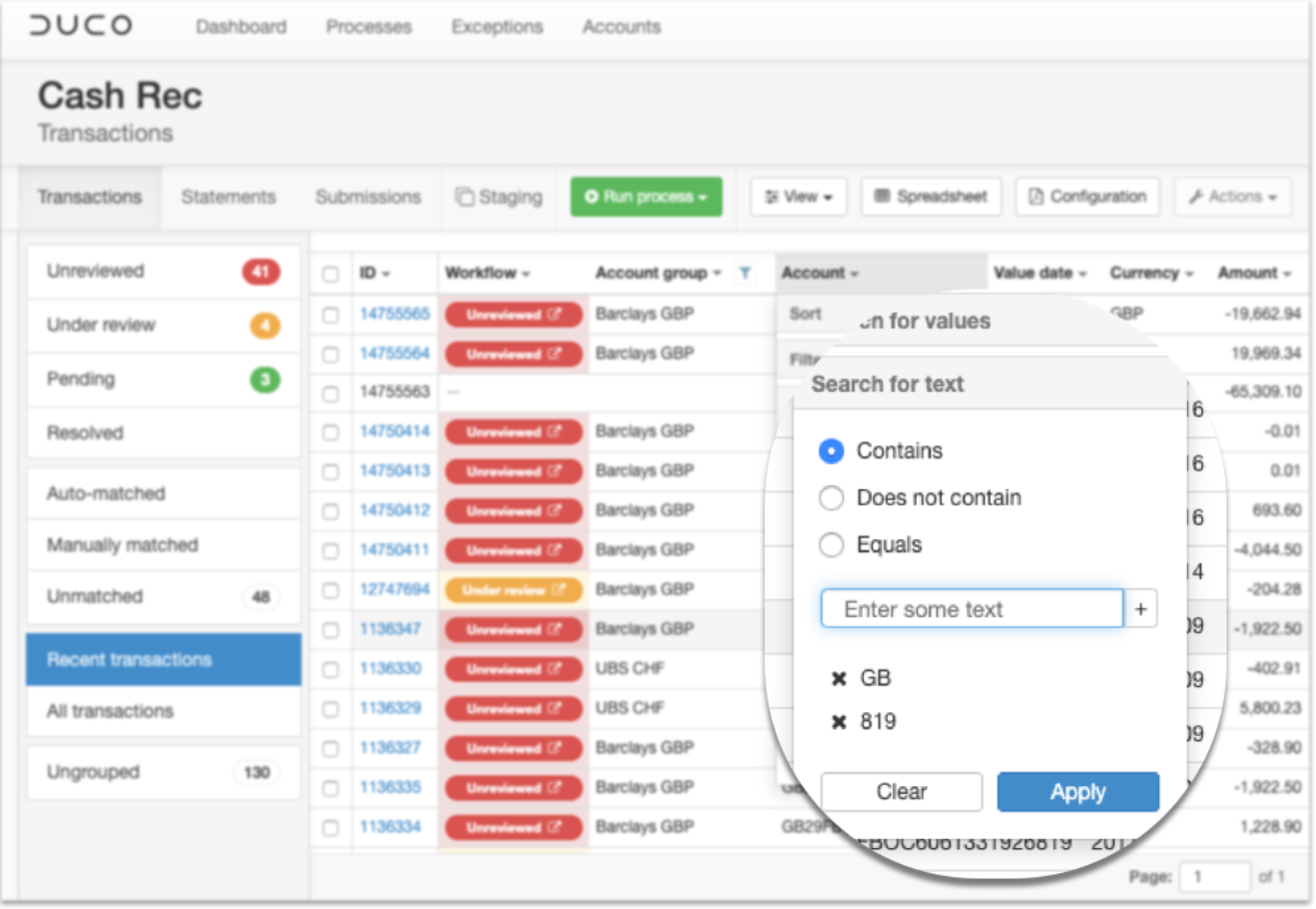 Recent transactions
This screen shows all unmatched transactions as well as the ones matched recently, giving you a result set that is the most relevant to your day to day work without the noise from matches in the past.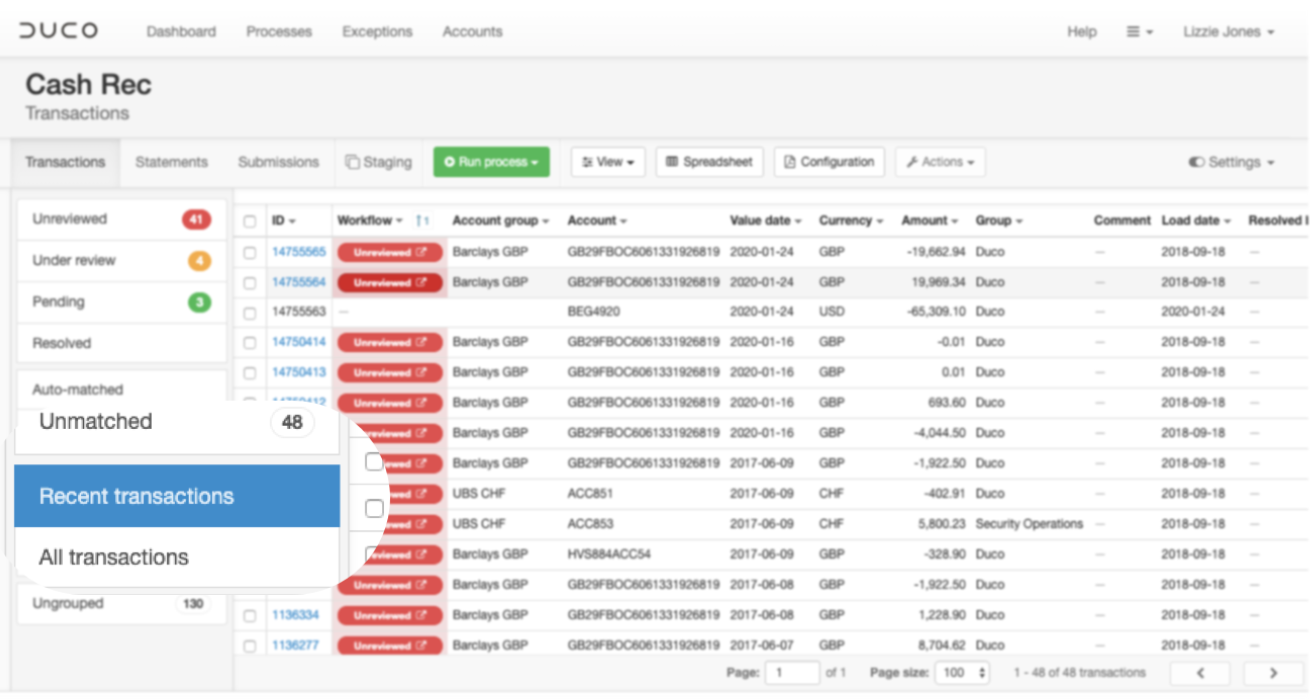 The number of days of recent matches can be set by process. Contact your Customer Success representative for more information, or to update this setting.
Ungrouped Transactions
Apart from transactions in various exception workflow statuses and match statuses, there is also a category called Ungrouped. This is the transactions belong to accounts where are not yet included in any account group. For instance, accounts created automatically by but not yet processed by account administrators would have their transactions appear here. By looking at the number of transactions in this category, and their details by clicking on it, an account admin can decide when they need to process these ungrouped accounts.
Applying labels to cash transactions
In cash reconciliations, you may want to categorise unmatched transactions automatically by conditions or manually, as part of exception management. Similar to generic processes, you can use labels to do this. You can apply one or multiple labels to cash transactions, individually or in bulk, in the result screens. Or alternatively you can use Workflow Rules to label them automatically based on conditions.

You can then filter and sort transactions by labels, making it easier to search and manage. Transaction labels are also included when you export data to spreadsheet.
Scope for Excel and XML extraction
Similar to the Recent transactions tab, when you extract cash process data through Excel (available from UI and API) and XML (available through API), all outstanding unmatched transactions and recent data will be returned. You can specify (through contacting your CS Representative) the age window for recently matched data, limiting the amount of data being exported and making your downstream system integration more streamlined.
This parameter can be configured for each cash reconciliation process. Contact your Customer Success representative for more information.
Easily investigate cross-account breaks
Duco's cash reconciliation process features a transaction repository which will show you all of the transactions for all of the accounts set up in that process (unless you filter down to only display you transactions for a subset of accounts). This makes it easy to investigate if an individual transaction has been mistakenly posted in a wrong account.