This guide steers the first Duco System Administrator within an organisation through the initial steps required to set-up Duco so that other users can use it. A System Administrator has full access privileges to Duco and control over all functionality.
The guide explains how to...
set up an email domain white list.
add another System Administrator (to cover sickness, holiday, etc.). We recommended every organisation has at least two System Administrators.
add a dedicated User Administrator. We also strongly recommend adding a User Administrator. A User Administrator does not have full-access like a System Administrator, but can add and edit other users and user groups.
You can find more information about the different user privileges and further detail on any of Duco's functionality in the Help Centre. However, if you need further assistance at any point our expert support team will be happy to help.
What you will need to begin
Before you begin you'll need to check you have the following:
one of our supported web browsers installed.
a secure URL to access Duco.
you have a user name and password to log into Duco.
you have been notified by Duco that you have System Administrator status and have permission to create other Duco users.
If you don't have one of the items above, get in touch with your Duco account manager or the Duco support team.
Logging in
To log in, type or paste the secure URL for Duco that you have been given into your web browser.
This should take you straight to the log in screen.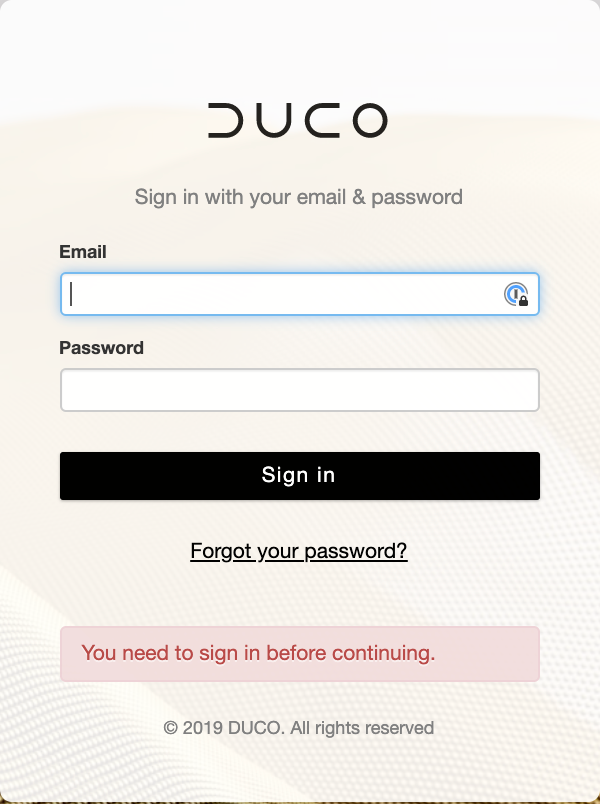 Enter your username (i.e. your email address) and password.
After successfully logging in you will see the Duco Dashboard.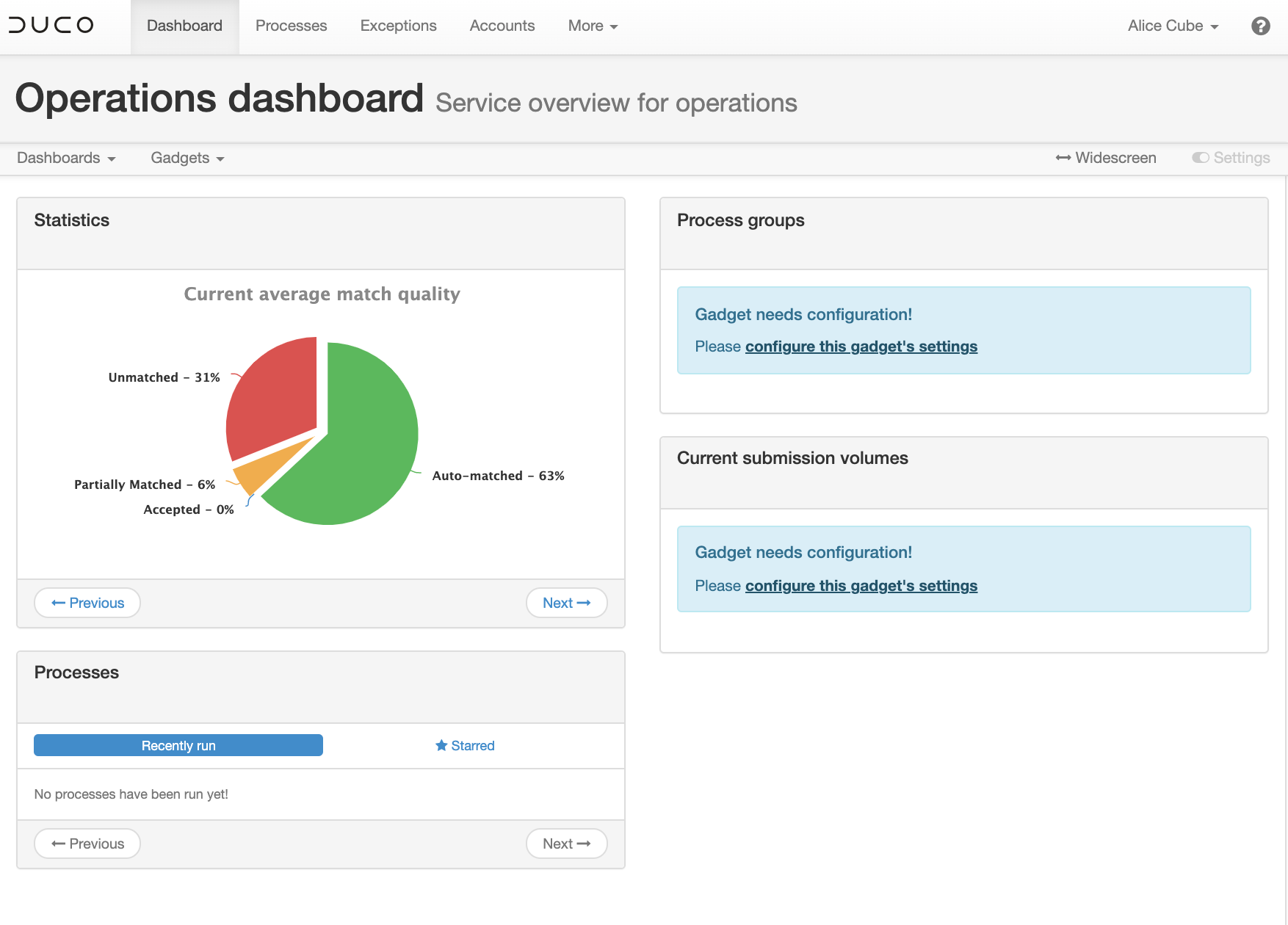 The Dashboard provides a summary and statistical overview of matching processes and results. However, you don't need to think about the Dashboard just yet.
Changing your password
From any screen
Click on your name on the top right of the screen and then on Account details

Enter the current password, your new password, and your new password again to confirm you have typed it correctly.

Click on Save Changes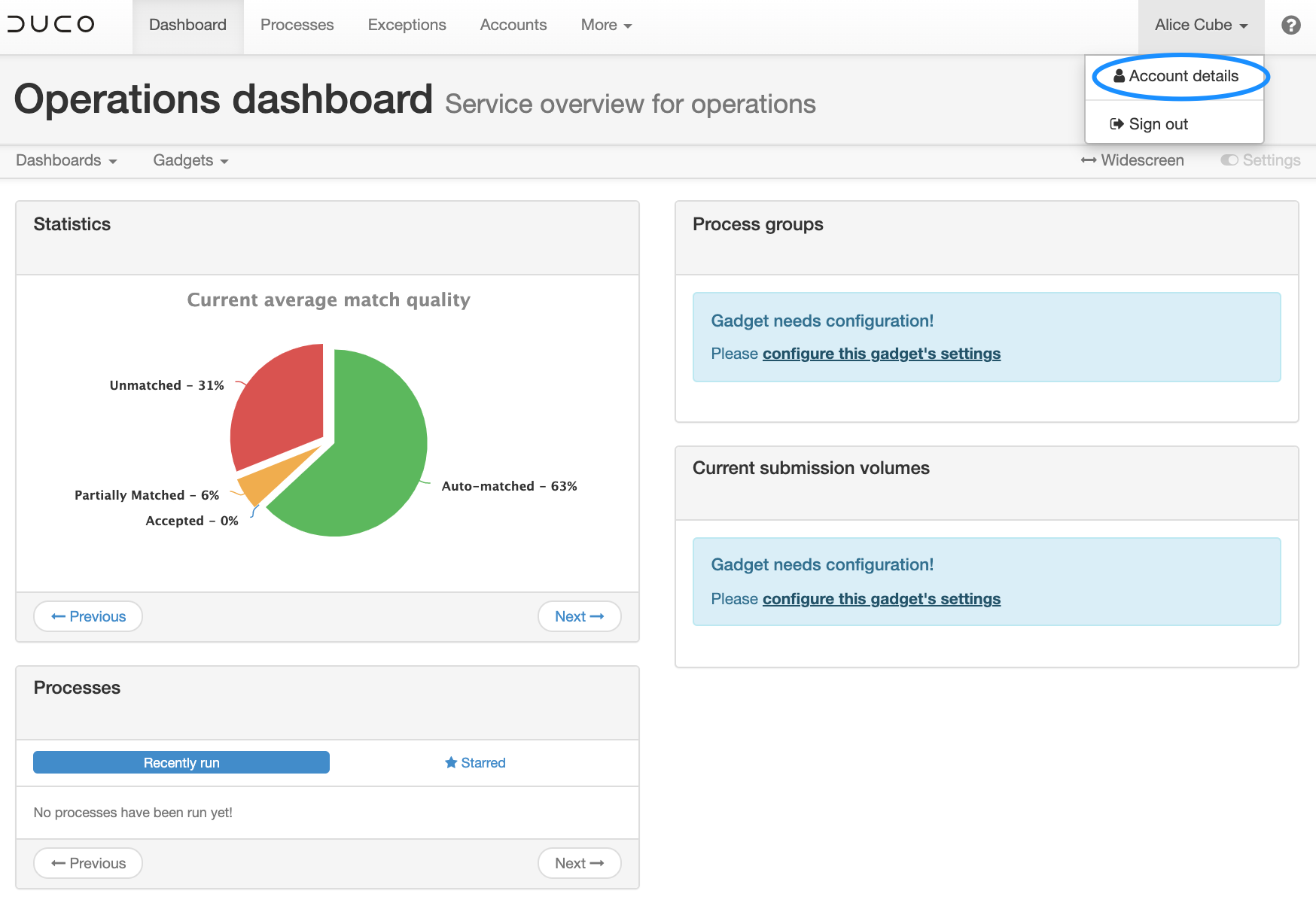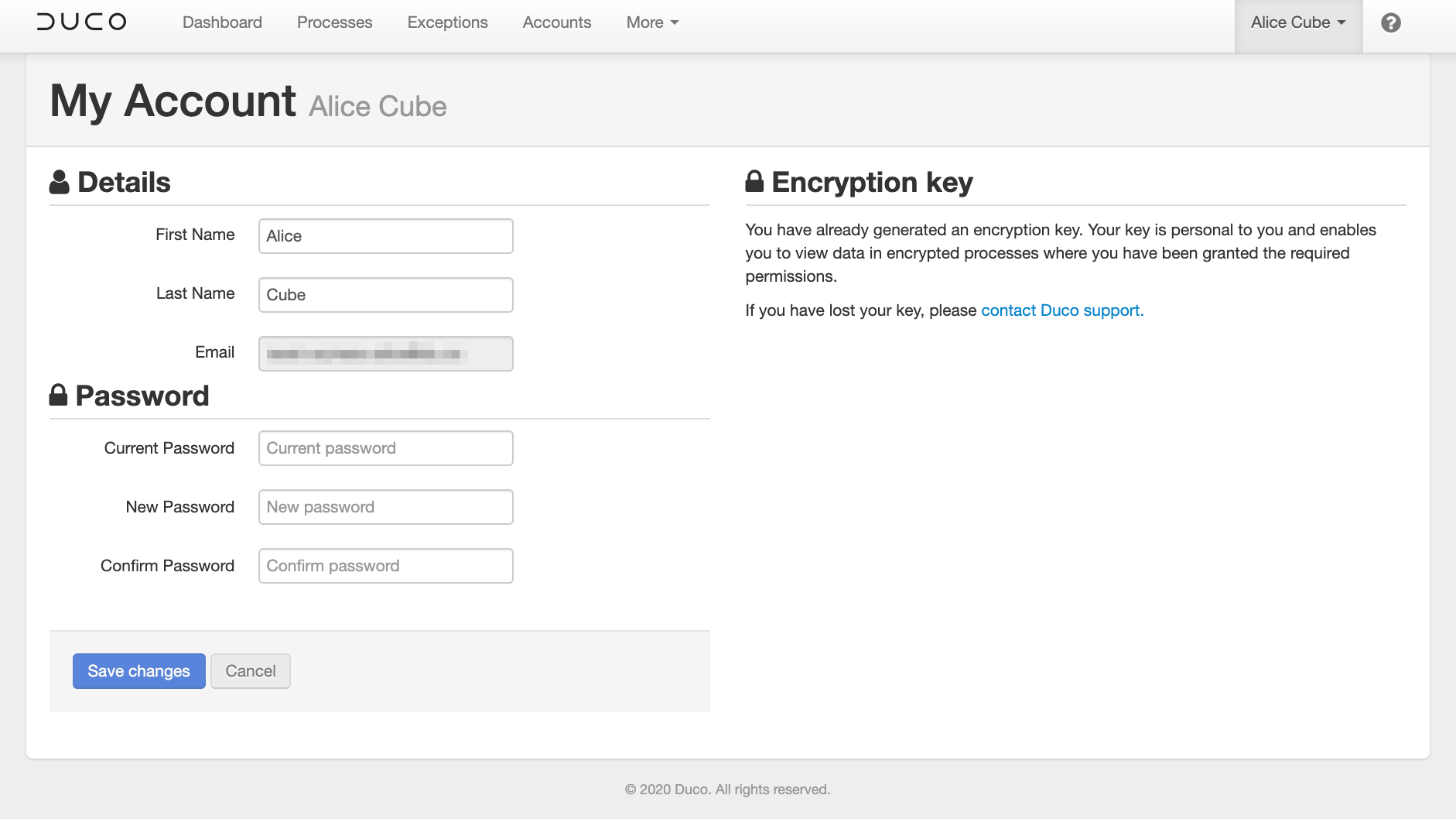 Adding domains to the global domain whitelist
Duco uses a whitelist of email domains. This is an access control, allowing you to restrict logins to your Duco environment to users with specific email address, e.g. @mybank
During onboarding Duco will have already added the domain that is used by the System Administrator. However, organisations may use multiple domains, e.g., "user@mybank.com", "user@mybank.co.uk", "user@mybank-securities.com", etc. In that case, all the applicable domains will need to be added to the list of authorized domains.
To manage the domain whitelist, a user first needs to have the Domain Administrator role (this is granted by default to System Administrators). Then the the following steps are required:
Click on the tab that says More from the top of the screen
Select Administration
Select Global settings
Add your domain/s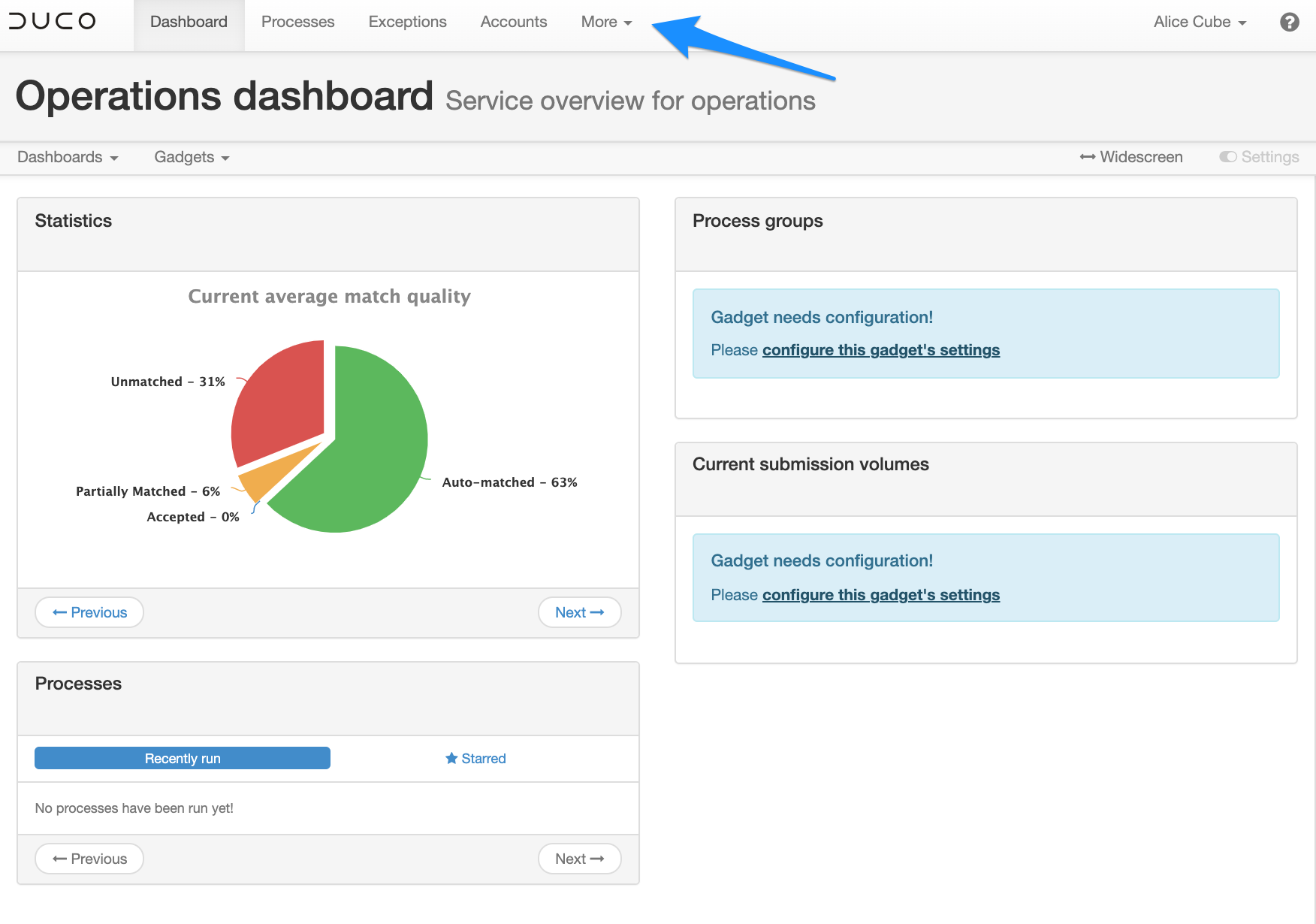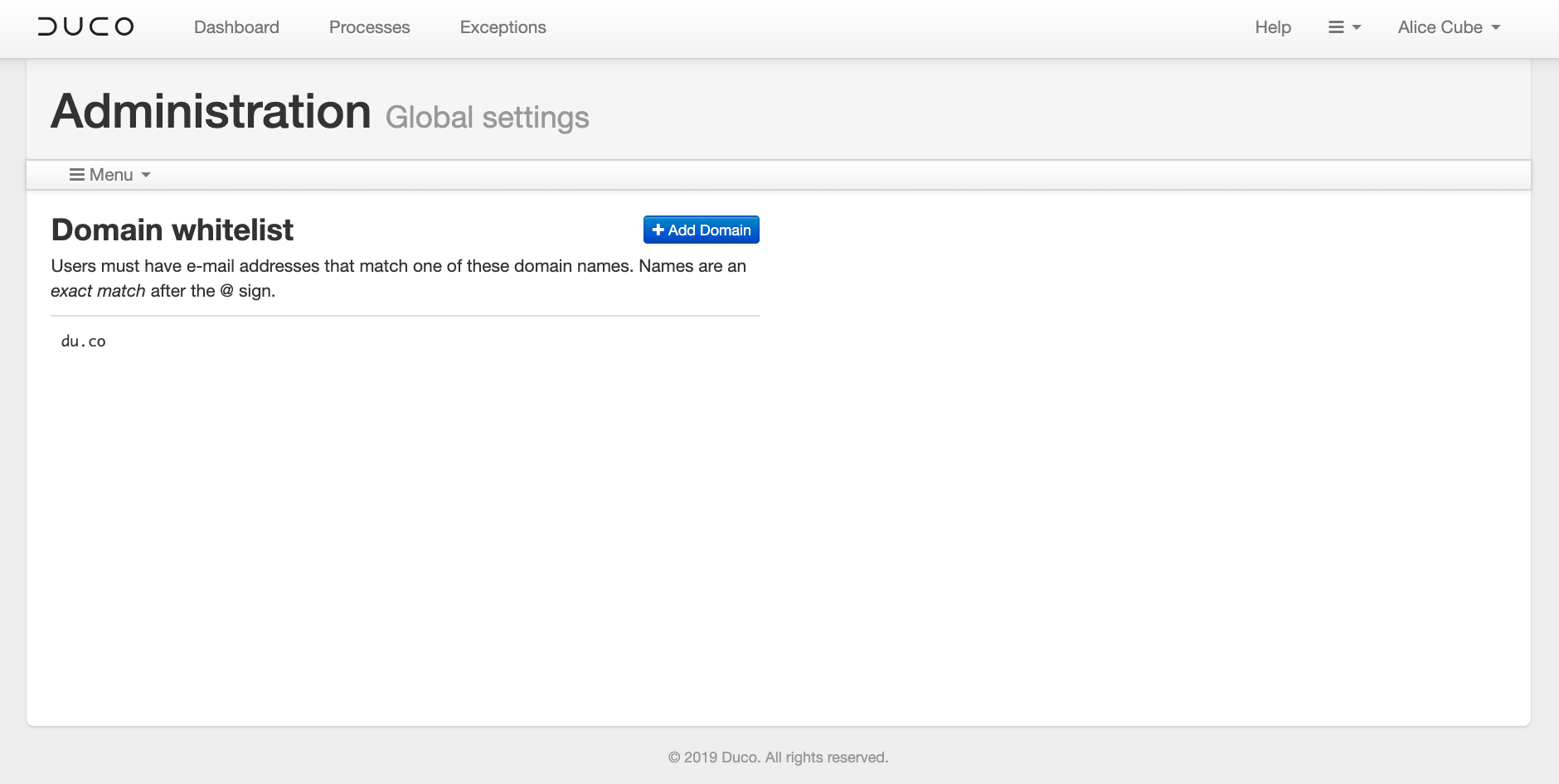 Configuring auto-log out and password renewal
Auto logout setting
The automatic logout after inactivity timeout setting is configurable. Set the logout for your Duco environment to any time required by your security team, to gain better control.
Password renewal
Some organizations have stringent user management policy that requires users to update their Duco passwords regularly (e.g. every 3 months). In addition to integrating your identity management system with Duco through single-sign-on (SSO) to have your password policy managed centrally, you now have a new option by asking us to configure an expiration period for you.
The expiration period is set in a number of months. Every time a user resets his/her password, it will expire automatically after the specified period. The next time he/she logs in to Duco, it will prompt him/her to set a new password. So together with this enhancement, you can also specify how many old passwords are not allowed to be reused.
Reach out to your Customer Success Manager to learn more about how we can configure auto logout and password renewal settings that best support you.
Next steps
Now you are ready to set-up additional users and groups of users. Click here to read more about the steps required to do this.
As user accounts may be granted certain system-level administration rights, this is a good juncture to give some consideration to your governance model. Rather than offer a rigid fixed governance model, Duco instead offers a suite of governance tools that you can implement in accordance with your requirements. Take a look at our Governance Best Practice Guide to discover some of the governance models available. There is also a Duco Academy class on this topic.
And remember, your Account Manager will also be able to advise you on how best to implement the desired controls.