There are two ways to raise a request to DUCO Support, either via the Help Center or by direct email to support@du.co.
Help Center requests
In the Help Center you can raise a support ticket at any time by selecting SUBMIT A REQUEST from the top-right of the screen.

Or when you are in an article, a second button giving you this option will also appear at the bottom of the screen.

Both of these options will navigate you to a form where you can outline your query/issue.
You will be required to fill in four mandatory fields: Email, Subject, Description of Inquiry and Impact. There are also optional fields to capture the URL of the process (extremely useful for Support) and add any attachments that might be relevant. The more information you can provide, the better.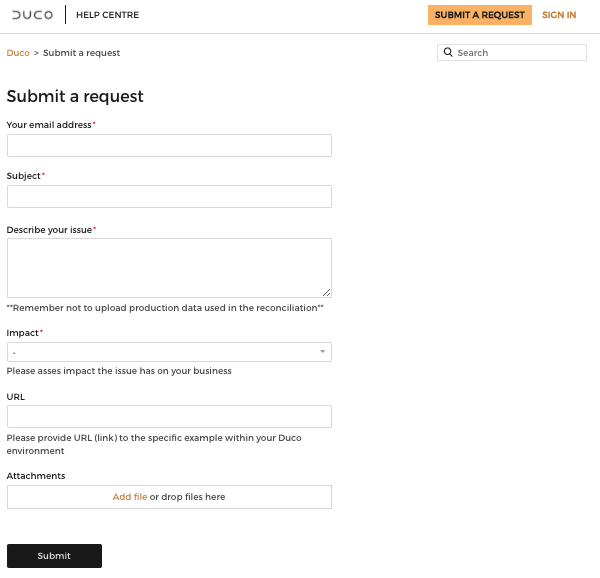 Requested Fields
Email Address - your email, or the email address of the person that Support should liaise with
Subject - A concise subject that captures the nature of your issue/query can significantly speed-up the triage and resolution of your ticket. A clear subject means that the recipient in Support can assess the importance without having to open Describe your Inquiry.
When you enter a Subject, Duco will automatically suggest articles that may be useful in addressing your request.

Describe your issue - This is where we would like you to capture as much detail about your request as possible. Useful information here would include things like the steps taken that lead to an issue occurring, names of affected processes, timing of issues, etc. The more color you can provide, the better the support will be that we can offer.
Impact - Here you have a drop-down where you can define the level of criticality of the request. Our Support staff can then use this information to determine how your ticket is triaged. If you are not exactly sure what to select, take your best guess at where things stand.

URL - Where applicable, providing the URL for a specific process can be extremely beneficial.
Attachments - For some requests an attachment can assist with the diagnosis of the problem. Screenshots can be especially helpful.
Once completed click "Submit" and someone from DUCO support will reach out to address your inquiry (you'll also receive an email with your support ticket number).

Email Requests
To submit a request via email, please contact support@du.co and ideally include the same details as listed above.