This month we are excited to offer you what we believe to be one of our most useful regulatory reporting solutions: preconfigured EMIR Refit assurance controls.
In addition, we are adding new capabilities to our Exceptions Management Interface to make using Duco ever easier.
As part of our EMIR solution, we've built a best-practice, preconfigured process aligned to the ISO XML schema for the refit (auth.108.001.01. and auth.030.001.03 file formats). These preconfigured processes, maintained by Duco, will speed up implementation and reduce resource-hungry maintenance on EMIR reporting.
The preconfigured EMIR process contains:
Two Data Prep 'sub-processes' - to ingest and normalise internal data and the trade repository file
A reconciliation 'sub-process' to identify breaks between internal data and the trade repository file
Simply load internal data and transform it in the platform to align to XML schema standards. For XML files, everything is already pre-mapped and preconfigured, apart from custom fields.
And the best part? We maintain the process so whenever there's an update from ESMA, we update the process parameters. That's right - no rebuilds necessary. We do it all.
In addition to the preconfigured processes and ISO format support, the EMIR assurance solution also offers operational dashboards for improved oversight and easier exception management and support from our expert Professional Services team for scoping, custom configuration and mapping as well as optimisation once the process is running.
If you have to do EMIR reporting reconciliations, talk to your relationship manager about how you can access this new solution.
Further enhancements in New UI
The results page in the new UI continues to be enhanced, bringing you an even smoother experience when navigating the system day to day!
We have now migrated additional widgets from the old UI record details page to the new UI, such as the "History" ribbon that lists all previous runs for the process in view, and the "Cross-matched details". Both of these can now be seen under the Details drawer without the need to navigate away from the results screen.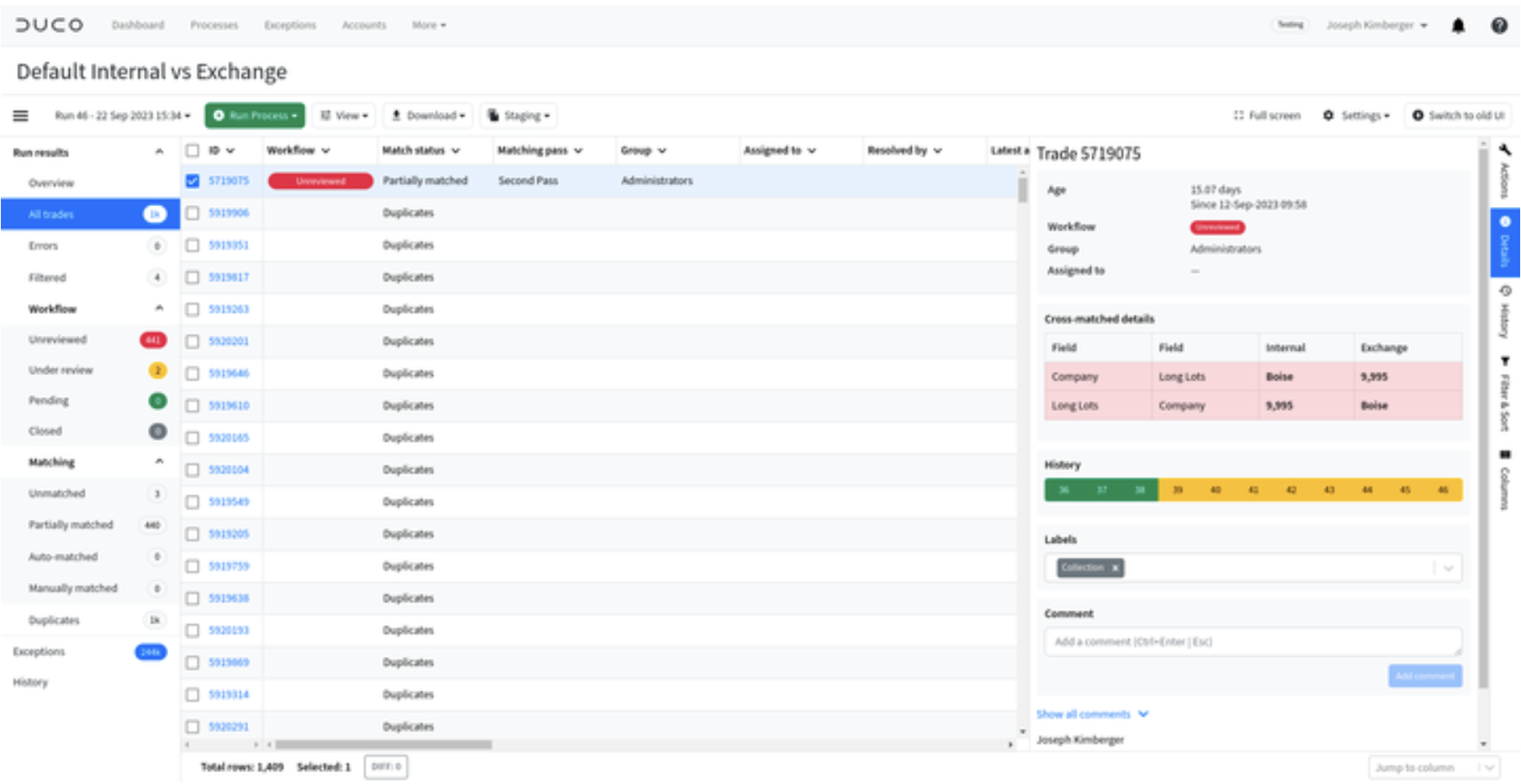 In addition, for those of you using masked processes you will now be able to easily view and take actions on these when using the new UI. You can unmask any sensitive data that was previously masked with a single button, followed by the entry of the correct private key; once successful, this will refetch the required data. Note any invalid key inputs will display a warning message and disallow the unmasking action, hence restricting any unauthorised access!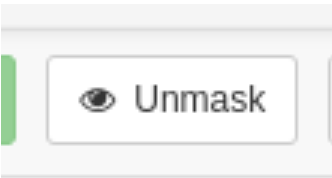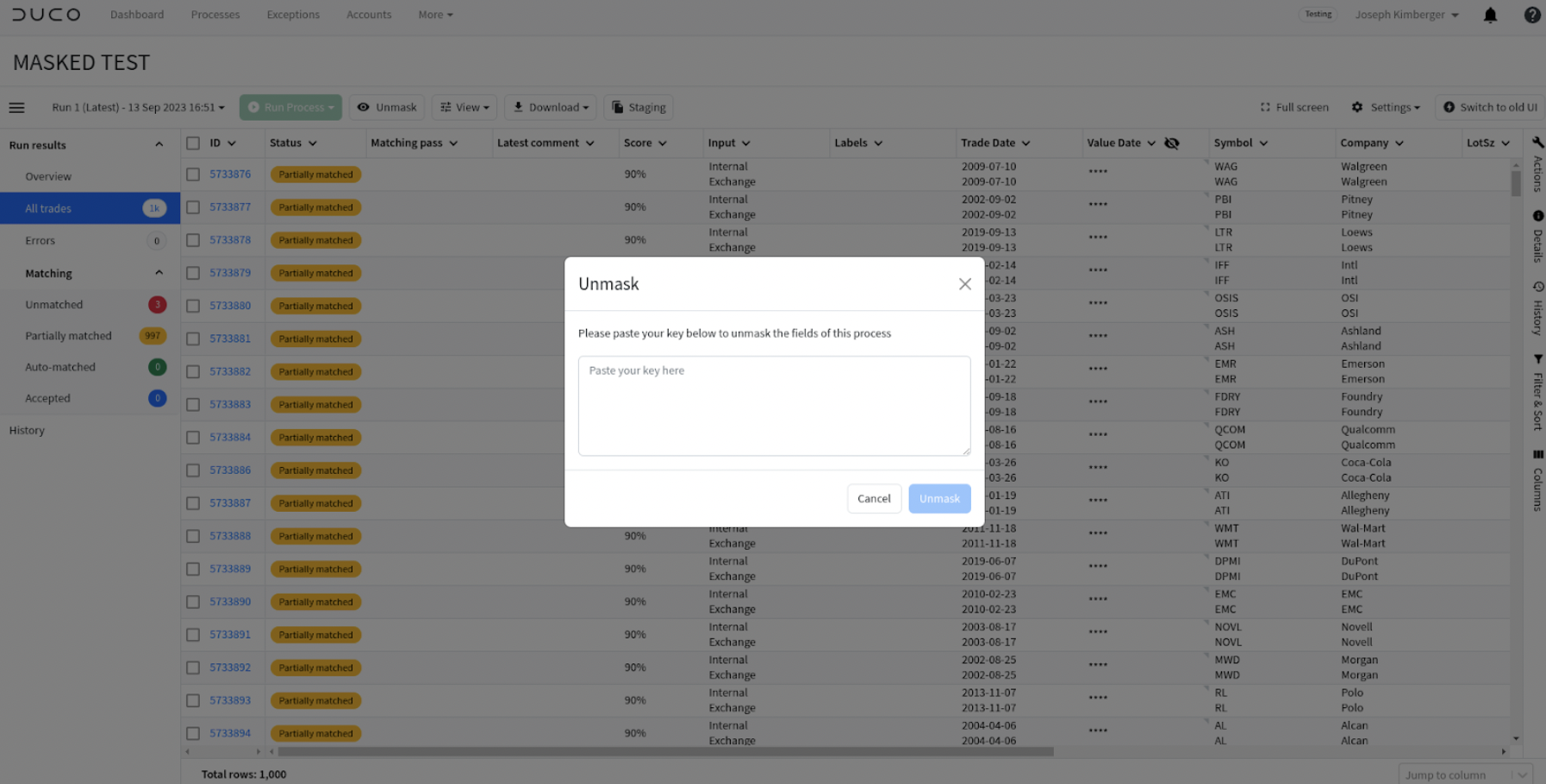 Updated my account page
We have now migrated my account page to our new, streamlined user interface. Additional areas of the platform will be migrated in the coming months, so stay tuned!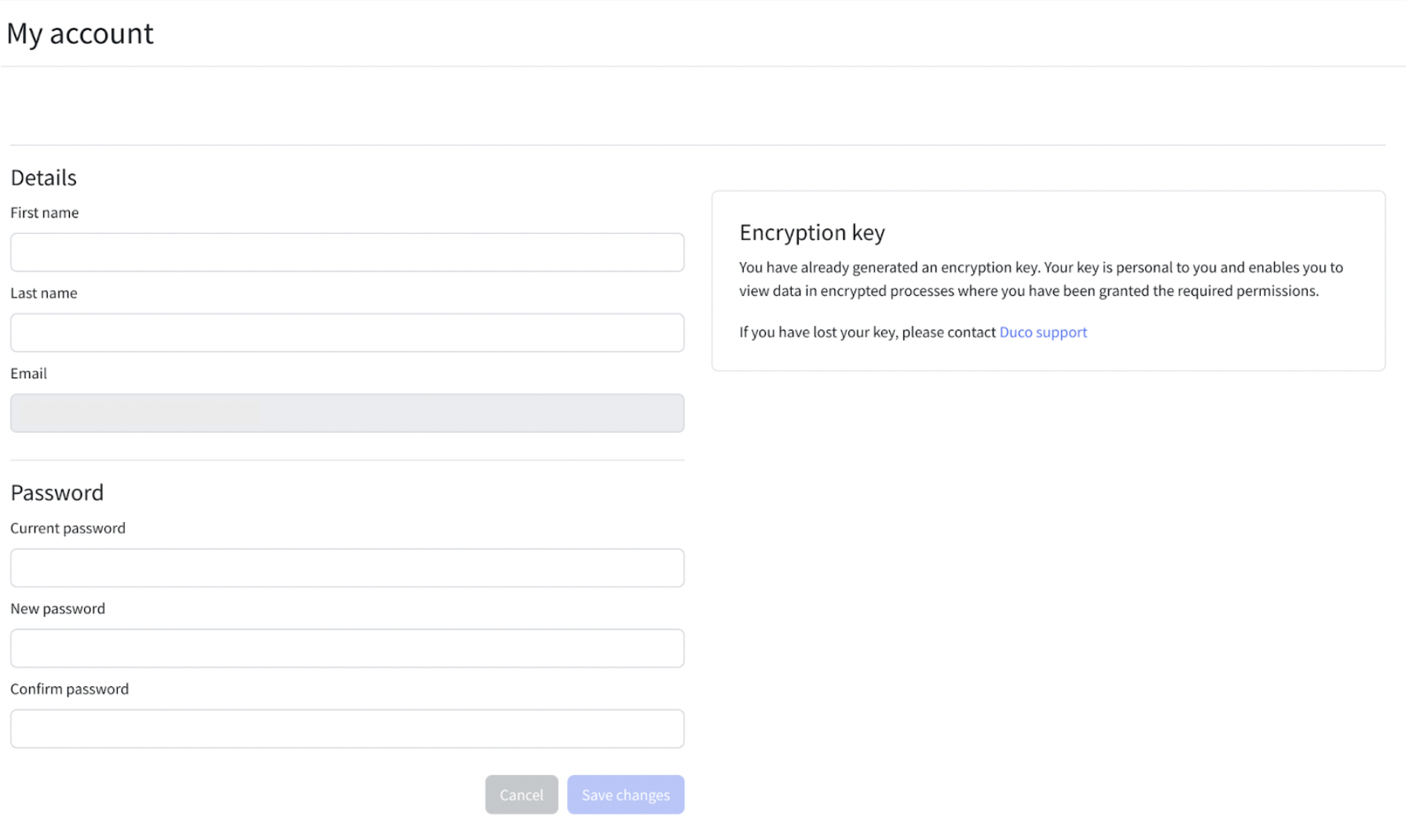 Fixed bugs
| | |
| --- | --- |
| Issue Addressed | Description |
| Error message displayed when trying to upload big size files via SFTP | The Duco platform displayed file size in megabytes (MB) when they were in fact given in mebibytes (MiB). Fix was deployed to correct this logic and should work from now on |
| Data Prep was incorrectly parsing data when '\' symbol existed in the Reference Data Table used in NRL transformation | Fix an issue of incorrectly processing the data when '\' symbol was existing in Reference Data table |
| In the new results UI, the "filter by value" option in column filters was failing to display all possible values when a specific one was already selected | Fix deployed to ensure all available options are displayed when user tries to filter by value in the new UI |
| "Latest activity" and "Resolved by" columns were displaying as empty for Pending, Unreviewed, and Under Review workflow buckets | "Latest activity" and "Resolved by" columns were removed from Pending, Unreviewed, and Under Review workflow buckets as these will never have any data and are therefore not required |
| Empty audit history was visible for records that are filtered out and/or identified as duplicates, which is unexpected behaviour based on what's visible in the old UI | Change made to hide the audit history for any records that are duplicates or filtered |
| The "Absolute Value" was not being maintained in the default view after sorting the Amount column by order | Fix was deployed such that when a user saves a view as default sorted by the amount by order, the "descending" order remains together with the "Absolute Value". |
| Recon processes where both sides were using Data Prep inputs were incorrectly fetching the wrong side's snapshot | A fix was implemented for the right data prep snapshot to be used when running reconciliations with data prep inputs on both sides |
| Users were frequently reporting seeing "failed to fetch" errors in the notifications hub when using the new UI on QA environments | Fix was deployed to clear the previous errors seen when using new UI on QA tenants |
| Errors were being shown when trying to click on the links on breaks with an age >30 days in the Ageing widget on the Overview page | A fix was implemented to clear the unexpected errors and to ensure correct redirecting of the links within the Ageing widget to show the user a pre-filtered results view of the specific breaks |
| The first run of a new process was failing to show the Overview and results pages when expected at the end of run completion, and instead there was a message displayed on screen indicating that "Run results are archived" | The unexpected UI behaviour has been fixed so that the user is now directed to the Overview screen once a run completes, regardless of whether it's the first run of a given process or a subsequent one |
| The Overview page in the new UI was incorrectly displaying a View menu in the horizontal toolbar (inconsistent with the old UI) | Changes were implemented to remove unexpected UI elements from showing in the new UI |
| UI issues observed when viewing the audit log after deleting a label - "service unavailable" error displayed. | Fix was implemented in the APIs for both the old and new UIs to correctly recognise the label application/deletion activity as applicable, and to display the right details in the record history |
| The "filter by event type" dropdown was failing to display the right option for "Run completed" in the record history view | A fix was implemented to ensure all relevant events for a given record are correctly displayed in the "filter by event type" dropdown options for any given record |
| New UI did not include Absolute Value in the "default view" when saving | The recent UI update addressed an issue where the Absolute Value function was missing from the "default view" when saving. This problem has now been resolved, ensuring that Absolute Value is properly included in the default view settings. |