This release brings another speed boost for Data Platform and introduces better control over various areas in Cash and Data Prep as well as improves user experience navigating the results pages.
Data Platform
View your cash results sooner with use of Data Platform
We are introducing further improvements to syncing times in the Cash Data Platform. With this enhancement we have observed up to 30% improvement in the preliminary tests.
Data Prep
Enrich your data more accurately using reference data
By using Duco Natural Rule Language (NRL), you can enrich your data in Data Prep using reference data tables, to make the whole data set more relevant and useful for the business operations.
You can now use more than one field to find the exact entry in the target reference data table, so that you will have more certainty and accuracy when enriching your data. Similarly you can use the rule for filtering out data.
Easier to navigate between snapshots
When you have many snapshots created in your process, we want to make it easier for you to navigate through them. As a first step, you can now arrange the columns in the view so that you can look through the more useful information.
More enhancements will come in this screen to further improve it. Stay tuned!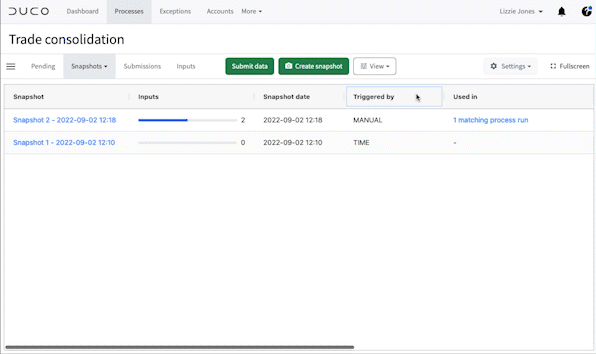 Cash
Track when the transactions were matched
We have added a new 'Matched at' column on the results page for users to review matched dates within the Cash module. This will help users to follow when matches were created in the reconciliation results as well as it will be included in the results export for reporting or audit.
Fixed bugs
| | |
| --- | --- |
| Issue Addressed | Description |
| Incorrect Data Prep snapshot names on the Cash submissions page. | In some cases the names of snapshots used for submissions in Cash were duplicated and were not showing the accurate snapshots used for a specific submission. |
| Failed runs with the error 'An error occurred while running the matching process'. | Runs in two-sided processes were failing with an error. The next runs were successful, however in some cases the carried-over items were missing. |
| Failing runs due to the duplicated labels on the same record. | Several labels were added to the same record twice causing the process run to fail. |
| Not possible to close all exceptions | The bulk exceptions closure was failing in a two-sided process. |
| Wrong closing balance on the accounts page. | Cash global accounts page was displaying the wrong closing balance. |