This new release enables better control over system security, and introduces seamless access to a learning pathway for new users looking to get started with Duco.
Governance
Auto logout setting
Starting with our March release, the automatic logout after inactivity timeout setting becomes configurable. Set the logout for your Duco environment to any time required by your security team, to gain better control.
Reach out to your Customer Success Manager to learn more about this addition.
Learning
Onboarding checklist
Our new in-product onboarding checklist gives starter users a pathway for learning the basics of the product, as well as presenting some of the key resources available to them, such as Duco Academy and Support.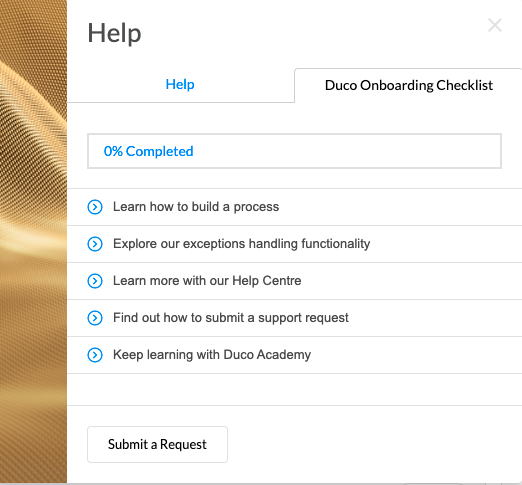 To learn more about it, check this page.
Fixed bugs
| | |
| --- | --- |
| Issue Addressed | Description |
| Submission trigger does not work in Data Prep | In cases when many files were submitted at the same time, the submission trigger was not creating a snapshot automatically. |
| Data Prep submissions are failing | In a Data Prep process after the configuration changes, the submissions started to fail due to previous records still being in a Pending status. |
| Data source routes were not deleted automatically when the corresponding Data inputs were deleted. | When the Data Prep data inputs were deleted via the staging copy, the system was not removing related data source routes, blocking the file submissions. |
| Incorrect exceptions status after the run fails automatically. | In some rare cases after a process failure exceptions became Unreviewed and the exceptions history and attributes were not copied to the new run. |
| Incorrect exceptions status and age after marking the run as failed. | In some rare cases when the auto closure was set to the match fields and the match rate of the records was changing in-between the runs, the status of the exceptions in the new run was resetting if the previous run was marked as failed. |
| Incorrect reference data fields in the NRL dropdown. | While creating a filter rule using a reference data table, the dropdowns were showing fields from different reference tables. |
| Internal error messages in a Cash process while doing manual actions | In some cases while doing manual actions on results of a cash reconciliation (e.g. filtering, labelling, matching etc) the system was showing an internal error, not allowing to complete the task. |